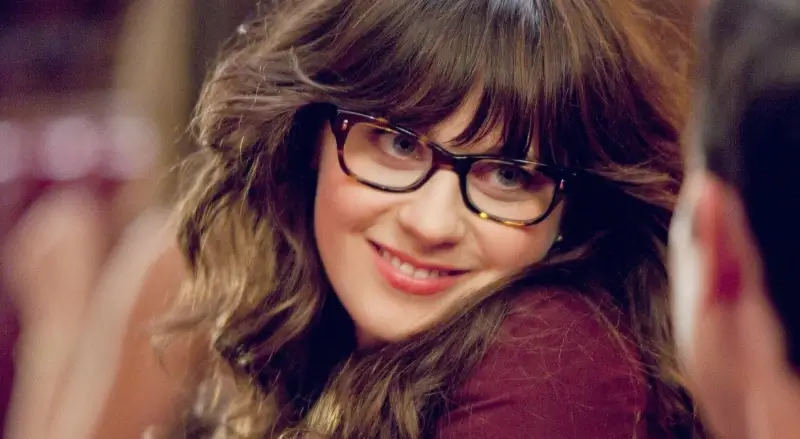 Photo Credit: Everett Collection
Character Analysis
(Avoiding Spoilers)
Grew up… in Portland, Ore. In her heart, though, Jess has never really grown up. At 31, she's a relatively responsible adult, but she still retains a wide-eyed attitude toward the world. 
Living… with three single guys (Nick, Schmidt and Winston) in a converted warehouse apartment in Los Angeles. As a very "girly" girl, Jess does her best to fit in with the football-watching, beer-drinking, masculine atmosphere of her new apartment. Though she's never embarrassed to be her "weird" self, even in front of her new roommates: "Also, I like to sing to myself a lot."
Profession… schoolteacher. Jess loves to inspire young children and watch them grow. She's also the leader of the school's handbell band and hosts practices in the apartment, which never fails to annoy her roommates.
Interests… eclectic. Aside from bursting into impromptu song and her handbell band, Jess wrote on her rental application for her current apartment that she "used to love writing Nancy Drew fan-fiction, as though I were the criminals that Nancy eventually catches. It may seem futile, since I know I'm going to get caught in the end, but it does help restore some of the mystery and suspense that is lost after the first read."
Relationship Status… single. She recently broke up with her long-term boyfriend, Spencer, whom she caught cheating. So she's back on the dating scene, but not without reservations: "I'm gonna end up alone. I'm gonna be a single old lady, flashing people on the subway."
Challenge… getting over her ex-boyfriend and making a new life for herself. Jess is just trying to make sense of life in her 30s.
Personality… quirky, fun, and sweet. Jess is always willing to look at the bright side of any situation. But at the same time, she's not afraid to be herself, even if it means that it sets her apart from the group. 
Recommendations
Fans of her also like: