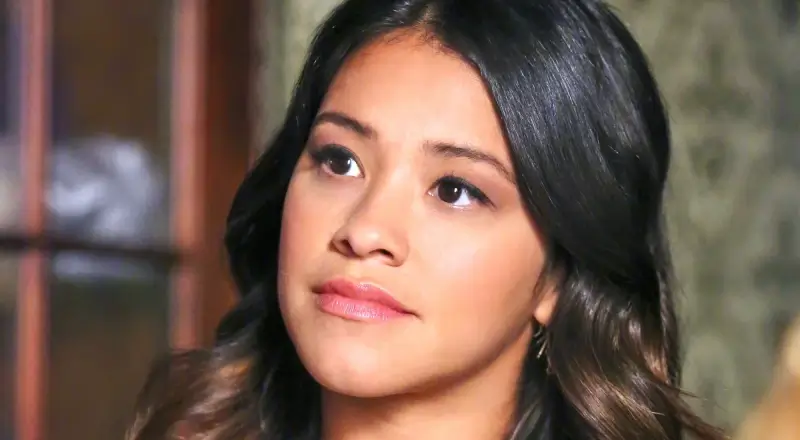 Photo Credit: Everett Collection
Character Analysis
(Avoiding Spoilers)
Grew Up… in a loving Venezuelan home in Miami, Florida, with her very religious abuela (grandmother) Alba and her mother Xo. Xo and Alba have always loved Jane a great deal, but even still they all know that Xo's life was derailed by her pregnancy with Jane at age 16. That's why, when she was 10 years old, Jane took a vow of virginity that she righteously upholds.
Living… in Miami, in the house she grew up in with Xo and Alba. That's where they watch their favorite telenovelas (Spanish-language soap operas) together daily.
Profession… waitress at a fancy hotelwhile she studies to be a teacher. That fancy hotel happens to be owned by Rafael Solano, a rich playboy with whom Jane shared a passionate and heartfelt kiss years ago. In the back of her mind, Jane keeps a secret dream of being a successful writer.
Interests… years of watching telenovelas have made Jane an earnest romantic, filled with grandiose ideas of love that influence both her writing and her life. In addition to her telenovelas, especially her favorite show The Passions of Santos, Jane grew up with a strong sense of religion and is very devoted to her Catholic faith.
Relationship Status… engaged to Michael, her boyfriend of two years. They're waiting until marriage to have sex, and they plan to live their lives according to Jane's carefully planned timeline. Although, Jane's interactions with Rafael might get in the way…
Challenge… dealing with a completely unforeseeable, life-altering situation.While doing a good job of sticking to the plan and maintaining her virginity, Jane was accidentally inseminated by a distraught and distracted gynecologist. Now Jane is pregnant, and it just so happens that Rafael is the biological father. As Jane grapples with a truly unexpected pregnancy, she realizes that her life is "now the stuff of telenovelas."
Personality… trusting and big-hearted, she can edge a little toward naiveté. But still, Jane is smart and strong, with a good head on her shoulders. She always strives to do the right thing, even if that means carrying a seemingly immaculately conceived baby despite the way it will turn her life entirely upside down.
Recommendations
Fans of her also like: