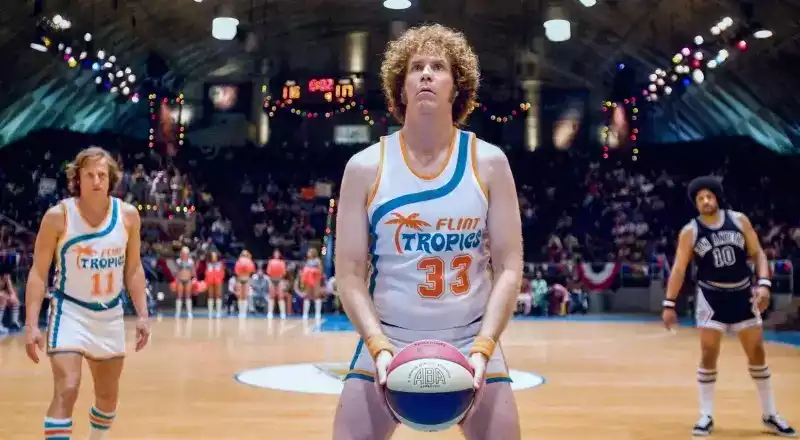 Photo Credit: Everett Collection
Character Analysis
(Avoiding Spoilers)
Living… in Flint, Michigan. It's 1976, the height of disco. Jackie is a one hit wonder singer who bought an ABA basketball team, the Flint Tropics. Jackie's greatest secret is that he didn't write "Love Me Sexy" – he stole it from his mom, who scribbled it on a napkin three weeks before she died.
Profession… owner, coach, and power forward for the Flint Tropics. The Tropics are all but broke, and Jackie puts most of his energy towards boosting attendance with wacky promotions: wrestling a bear, jumping 47 feet of ball girls on roller skates, providing free corn dogs if the Tropics score 125 points.
Interests… fondue, DJing, granny-style free throws, neckerchiefs.
Relationship Status… married to Stacey. She is a very attractive Flint Tropics ball girl and since they have an open relationship, Stacey has slept with half of Flint. Jackie, on the other hand, has never slept with another woman. He says, "I could. That's the beauty of it. No ball and chain here."
Challenge… joining the NBA. The commissioner recently announced an ABA-NBA merger, but only the top four teams in the ABA will join the NBA while the rest will be forced to dissolve. Jackie needs to rally his troops from last place all the way to fourth if the Tropics are going to survive the end of the season.
Personality… a caring, confident, and terrible coach. He encourages camaraderie with the motto, "Everybody love everybody." More than anything, Jackie is a showman who provides the citizens of Flint a glimmer of hope. As Tropics announcer Lou Redwood puts it, "Jackie Moon is Flint's favorite son. And he has done more for this city than any human being who's ever lived on this planet!"
Recommendations
Fans of him also like: