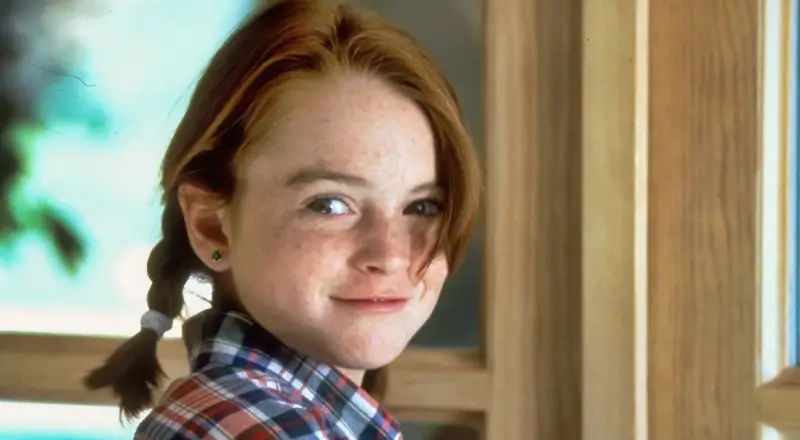 Photo Credit: Everett Collection
Character Analysis
(Avoiding Spoilers)
Grew Up… motherless in Napa Valley, California. All her life, Hallie has lived on a vineyard with her single father and their longtime housekeeper, Chessy.
Visiting… Camp Walden, a sleep-away summer program for girls in Maine. There she happens to cross paths with her long-lost identical twin sister, Annie. The two engage in a vicious pranking war until they have to live together in the Isolation Cabin. They end up hatching a plan to switch places to get to know their other parents.
Living… in London, England, where she is pretending to be her twin sister, Annie, in order to spend time with her mother.
Interests… horseback riding, oreos with peanut butter, and Leonardo DiCaprio. Hallie's best friend is her dad, and she loves Chessy, but she has still always wanted a mom.
Relationship Status… boys? Not right now. But still, give her a call if you hear Leo DiCaprio is interested.
Challenge… finding a way to get her parents back together, so she doesn't have to be separated from her sister and mother anymore. This includes making sure her dad doesn't get remarried to a much younger woman who she hates.
Personality… stubborn, impulsive, and clever. Hallie's the one who ups the ante – whether in her pranks on Annie at sleep-away camp or her attempts to drive interloper Meredith away from her father. She's got the guts to go through with their plan to switch places, showing none of Annie's reluctance. When Annie protests having her hair cut to look like Hallie, Hallie proclaims, "Honey, you never looked better."
Recommendations
Fans of her also like: