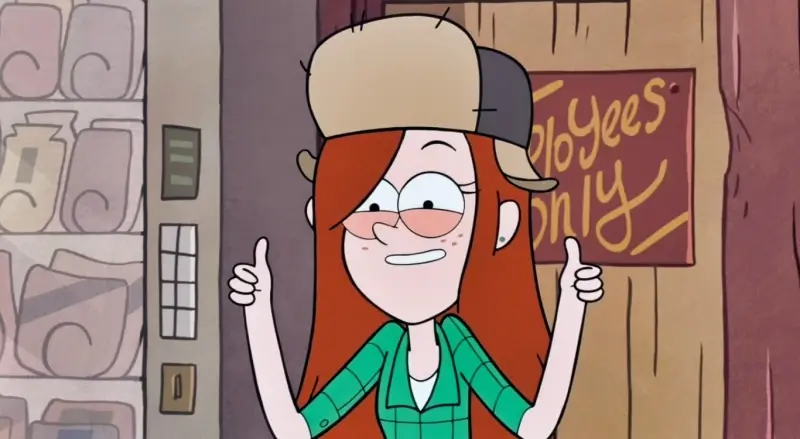 Photo Credit: Everett Collection
Character Analysis
(Avoiding Spoilers)
Grew Up… in Gravity Falls, Oregon. Wendy was a tough kid when she was younger, and her father, Manly Dan, used to have her compete in lumberjack games, where she excelled. Wendy also used to be very awkward.
Living… in Gravity Falls, still. Wendy has three younger brothers and a very large, manly father. Her mother no longer lives with her, which makes Wendy the only girl in a family of four boys. 
Profession… high school student. But Wendy also works part time at the Gravity Falls Mystery Shack. Wendy doesn't like high school very much, but she likes hanging out with her friends and help Dipper and Mabel Pines, her boss's niece and nephew, solve mysteries. 
Interests… flannel, jokes, bad movies, soda, and hanging out. 
Relationship Status… single. Her friend Robbie is really into her though, which is a problem for Dipper, who is also really into her. 
Challenge… making her summer interesting. Gravity Falls is a small town, and incredibly boring. But luckily for Wendy, Gravity Falls is not as boring as it may seem, because Dipper stumbles upon a huge mystery. With the Pines twins in town, Wendy definitely won't be bored.
Personality… laid-back, funny, and down-to-earth. But though Wendy appears chill, she is actually stressed out from her family. Wendy is friendly and despite the age difference, she really values her friendships with Dipper and Mabel. Wendy is a bit lazy, but is good at athletics, and is brave in the face of danger.
Recommendations
Fans of her also like: