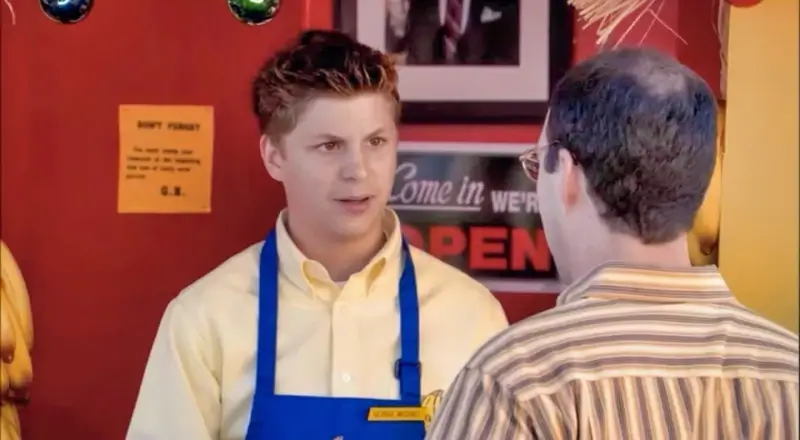 Photo Credit: Everett Collection
Character Analysis
(Avoiding Spoilers)
Living… at the Bluth residence in Southern California, now with most of his extended family. George Michael (named for both his grandfather George and dad Michael) has mixed feelings about his father's plans to move to Arizona. His entire life is here. He doesn't think as poorly of his grandparents, aunt and uncles as his father does. Then again, he hasn't known them as long.
Profession… high school student, and a very good one. Not only does George Michael get perfect grades, he also holds down a part-time job at the family's frozen banana stand. He's even got a title: "Mister Manager."
Interests… theatre, as of late – mainly because of his cousin Maeby's interest in being in the play. She's been taking up a lot of space in his mind. Between her, school, and the banana stand, there's not much time for anything else.
Relationship Status… very complicated. There's been this weird, maybe even sexual tension with his cousin Maeby since her family moved in. Obviously he'd never do anything to act on it. But she keeps joking about it, and the more she jokes, the more he thinks about it. What if it did happen? It couldn't though, of course. But what if it did?
Challenge… handling the upheaval in his life. George Michael thrives on order and pats on the back. All this new chaos – the family moving in, his grandfather going to prison, his father considering a move to Arizona, his attraction to his cousin – it's bound to take its toll. He can handle the emotional suffering, but what if his grades slip? He couldn't take it.
Personality… good-hearted, straight-laced, and nervous. George Michael doesn't have a rebellious bone in his body. He does what's asked of him and doesn't ask for much in return. Though it'd be hard to find someone more socially awkward, he's basically a really good kid stuck in a really dysfunctional extended family.
Recommendations
Fans of him also like: