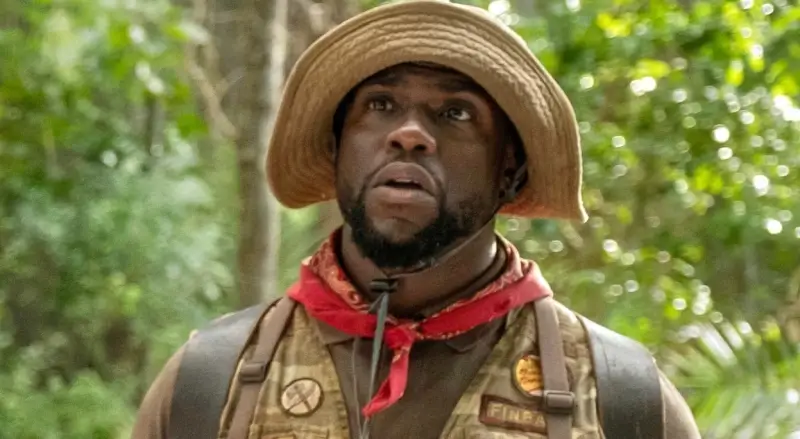 Character Analysis
(Avoiding Spoilers)
Grew Up... in Brantford, New Hampshire. He was a star athlete and one of the most popular students at high school. The only problem was that he wasn't the best student, so he turned to his brilliant and geeky friend to do his homework for him. Unfortunately, his friend wrote too good of an essay, landing them both in detention for cheating.
Visiting… the jungles of Jumanji. He and three other students have been sucked into a video game they played during detention. And now they have become the adult version of the avatars in it. No longer an athlete, Finbar struggles to keep up with everyone else.
Profession… zoologist who is half the size of his former self. His other job in Jumanji is to hold the weapons for his "geeky" friend who has been transformed into a muscular heartthrob. It's a lot like "Freaky Friday": they've exchanged bodies and roles.

Interests... ending a curse on Jumanji. Franklin and his three companions need to return a jewel to a statue and call out "Jumanji" in order to be set free. Thankfully, they have extra lives in Jumanji. But if they die for the third time in the video game, they will perish in real life.
Challenge... dealing with his short stature. Although his nickname is "Moose," he needs to remind everyone it's not "Mouse." Ouch. But the good news is that he's much smarter than he used to be. Reciting facts after facts, he keeps on asking "How do I know this?"
Personality… intellectual, snarky, and funny. After getting humbled in Jumanji, Franklin is a better person. With self-deprecating wisecracks, he is there for his friends in the video game in a way he wasn't in real life.
Recommendations
Fans of him also like: