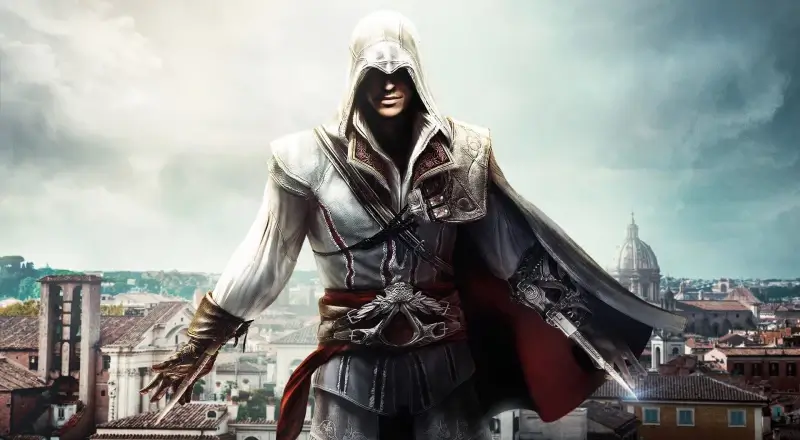 Character Analysis
(Avoiding Spoilers)
Grew up… with a wealthy family in Renaissance-era Florence. Ezio's father was a wealthy banker, and provided an opulent lifestyle for Ezio, his mother, two brothers, and younger sister. Ezio's comfortable life came to an abrupt end when his father and brothers were framed and hanged, forcing Ezio to flee the city.
Living… in the Villa Auditore in the Tuscan town of Monteriggioni. Ezio fled with his sister and mother to their ancient family home in order to escape execution. The Villa has been a godsend, operating as a safe haven for Ezio's family and a base of operations for his various missions to uncover the truth and clear his family name.
Visiting… Venice, Rome, and many other Italian cities. Ezio is on a quest to get revenge and to discover the links of his past connection to the ancient Brotherhood of Assassins, which has him visiting many cities across Italy.
Profession… Assassin. Ezio just discovered that he is a descendent of the powerful Brotherhood of Assassins. The Assassins are an ancient order locked in a centuries-old secret war against the enigmatic and powerful Templars. Ezio sets out to train in order to hone his abilities and get revenge on those who killed his father and brothers.
Relationship Status… complicated. Ezio used to be a big ladies' man who was prone to leaving women after one-night stands. He had a relationship with a young woman named Cristina Vespucci, but his travels left them separated from each other for many years. His licentious behavior usually prevents him from settling down with only one woman.
Challenge… exacting his revenge against the Templar Order and discovering the secrets of the Assassins. Now that he's been inducted as an Assassin, Ezio has all of the tools at his disposal to take out the corrupted leaders running the most powerful institutions throughout Italy. He does it for the memory of his family and to protect his mother and sister from the same fate.
Personality… loyal, playful, and hotheaded. Ezio has a short temper and often gets himself into unnecessary fights and trouble. Despite his cocky behavior, he's a very passionate and fun-loving man who will do anything to protect his family and ensure their safety. Dedicated and devoted to his path, Ezio is learning what it means to be a man of honor.
Recommendations
Fans of him also like: