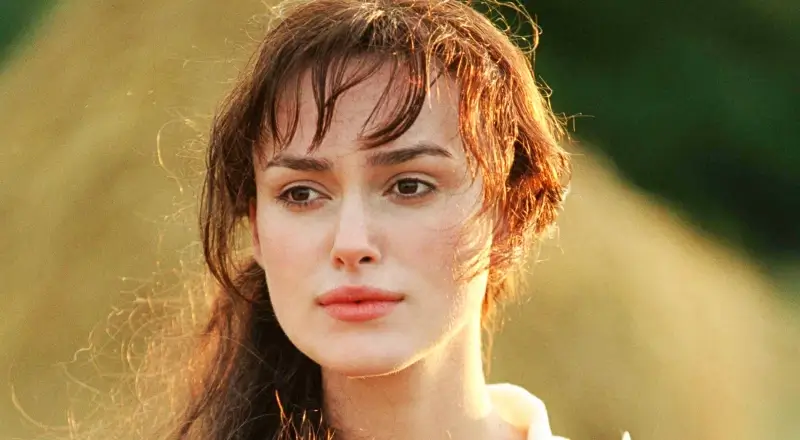 Photo Credit: Everett Collection
Character Analysis
(Avoiding Spoilers)
Grew Up... with her parents and four sisters in the country village of Longbourn in England. Elizabeth is very close to her father even though he can be sarcastic and reclusive. But she does not get along with her mother. She thinks her mother's sour looks and ill-natured remarks are enough to drive happiness away. And the feeling is mutual; her mother makes it clear that Elizabeth is her least favorite of all her children. In her eyes, Elizabeth is not as beautiful as her older sister Jane and not as good-humored as her youngest sister Lydia. 
Living... on her father's estate with her family. But she can't live there indefinitely. When her father dies, the property is required to be bequeathed to a distant male cousin. As her mother constantly reminds her, marriage is her best option as a single woman of small fortune. Her mother tries to help her by fixing her up, but Elizabeth detests all of her ideas.
Interests... reading, doing needlework, dancing at balls, taking long walks, and gossiping with her sister Jane. Elizabeth also "loves absurdities and delights in anything ridiculous."
Relationship Status... single. Elizabeth wants to be violently in love and cannot imagine anything worse than a loveless marriage like her parents have. As she says, "I has never been blind to the impropriety of her father's behavior as a husband. I have always seen it with pain."
Challenge... finding true love. Elizabeth has several prospects. One is a clergyman named Mr. Collins, who is the heir to her father's estate. Another is Wickham, a charming man whose appearance is greatly in his favor. And for some reason, she cannot stop thinking about an arrogant man she met at a ball named Darcy. 
Personality... witty, brainy, and strong-willed. As Elizabeth says, "There is a stubbornness about me that never can bear to be frightened at the will of others. My courage always rises at every attempt to intimidate me." Unfortunately, this can get her into trouble. She doesn't easily change her mind even when there are reasons she should. As the title says, she can have too much prejudice. But her stubbornness is also what we admire. For the early nineteenth century, Elizabeth is a rebel - courageously and charmingly fighting against what society expects of her.
Recommendations
Fans of her also like: