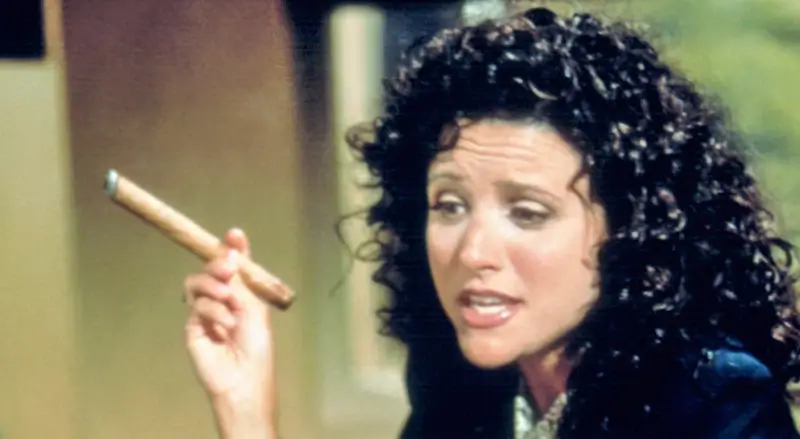 Photo Credit: Everett Collection
Character Analysis
(Avoiding Spoilers)
Grew up... in upper-class Towson, Md., with her gruff father Alton Benes, a famous novelist. Elaine almost never mentions her mom, who apparently walked out on the family when Elaine was 9 years old. She majored in French Literature at Tufts University, which she admits was her safety school. 
Living... in Manhattan, where she's basically one of the guys. She spends much of her free time with her closest friend Jerry Seinfeld, whom she used to date, and Jerry's friends George Costanza and Kramer. Elaine doesn't really have any close female friends. Maybe women are less tolerant of being physically pushed out of the room after telling Elaine something surprising, which she is wont to do. 
Profession... copy editor at a book publisher. Right now she's at Pendant Publishing, working for Mr. Lippman. Frankly it's a notch below her educational pedigree and her (self-reported) 145 IQ, but sometimes Elaine loses focus or her temper gets the best of her. Let's hope she puts it all together, but don't bet the house on it.
Interests... eating big salads, dancing (albeit terribly), carrying on feuds, and watching quality films. Just please don't bring up "The English Patient" because she can't stand that movie. 
Relationship Status... single and dating – frequently. (She once scandalized a local pharmacist when she tried to stockpile her favorite contraceptive, the sponge, before it was taken off the market.) Elaine has no problem attracting eligible suitors including a former baseball star and the president of NBC, but her screening system for who's truly "sponge-worthy" needs serious work. Take the time her date is stabbed with a fork by his ex-girlfriend while they sit in a restaurant. Rather than repel Elaine, the fact the guy was "stab-worthy" only made her more intrigued: "There must be something exciting about this guy if he can arouse that kind of passion." 
Challenge... meeting her own high standards. Given her privileged background, intelligence and good looks, Elaine expects a lot out of life, both professionally and personally. It would be hard for anyone to reach the bar she sets for herself, and usually she doesn't.
Personality... intelligent and assertive. Elaine knows what she wants and goes after it with gusto. If she doesn't get it, though, watch out for that temper.
Recommendations
Fans of her also like: