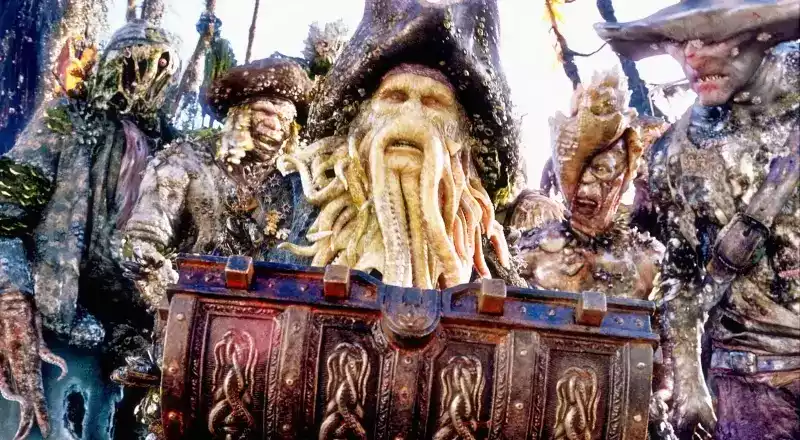 Pirates of the Caribbean: the Curse of the Black Pearl
Photo Credit: Everett Collection
Character Analysis
(Avoiding Spoilers)
Overview... captain of the Flying Dutchman. His ship originally carried souls who died at sea from this world to the next, but now he has gone rogue. His heart was broken, and so he locked it away in a locker. After that, his appearance transformed into that of a sea creature, with tentacles for a beard and a lobster claw for a hand.
Personality… cursed, rebellious, and ruthless. Davy Jones has betrayed his ship's purpose as a vessel for souls and now rules the seas with an eye for conquest, recruiting as many souls as possible to serve on his crew.
Recommendations
Fans of him also like:
35
users rated Davy Jones a...
Rate him
Get to Know him in...
Captain Barbossa, long believed to be dead, has come back to life and is headed to the edge of the Earth with brave Will Turner and feisty Elizabeth Swann. And what of Jack Sparrow? Nothing is as it seems.

The high-seas adventures of happy-go-lucky troublemaker Captain Jack Sparrow, young Will Turner and headstrong beauty Elizabeth Swann continues as Sparrow works his way out of a blood debt with the ghostly Davey Jones, he also attempts to avoid eternal damnation.

Captain Jack Sparrow crosses paths with a woman from his past, and he's not sure if it's love—or if she's a ruthless con artist who's using him to find the fabled Fountain of Youth. When she forces him aboard the Queen Anne's Revenge, the ship of the formidable pirate Blackbeard, Jack finds himself on an unexpected adventure in which he doesn't know who to fear more: Blackbeard or the woman from his past.

Jack Sparrow, a freewheeling 17th-century pirate who roams the Caribbean Sea butts heads with a rival pirate bent on pillaging the village of Port Royal. When the governor's daughter is kidnapped, Sparrow decides to help the girl's love save her. But their seafaring mission is hardly simple.

Pirates of the Caribbean is a role-playing game in which the player takes the role of a pirate who has to grow in skill by fighting, trading and solving quests. The player can buy and upgrade a ship, sign-up a crew, and try to rule the seas of the Caribbean.

Pirates of the Caribbean 2: Dead Man's Chest is a swashbuckling action-adventure for the Sony PSP, Nintendo GameBoy Advanced and Nintendo 3DS. Players play as the notorious pirate Jack Sparrow. Throughout the game the player sword fights with the undead, swings from the rigging, escapes from cannibals, and liberates booby-trapped treasure in a non-linear, action-packed 3D game that emphasizes pick-it-up/put-it-down game play. Pirates of the Caribbean 2: Dead Man's Chest multiplayer is a one- to four-player ship combat game where players choose one of five distinctive ships to face off against each other in a variety of ship-to-ship cannon battles over a wireless network. A robust upgrade system lets players fully customize their ship and crew between rounds, with a variety of maps and Pirate-style power-ups.

Thrust into an all-new adventure, a down-on-his-luck Captain Jack Sparrow feels the winds of ill-fortune blowing even more strongly when deadly ghost sailors led by his old nemesis, the evil Capt. Salazar, escape from the Devil's Triangle. Jack's only hope of survival lies in seeking out the legendary Trident of Poseidon, but to find it, he must forge an uneasy alliance with a brilliant and beautiful astronomer and a headstrong young man in the British navy.