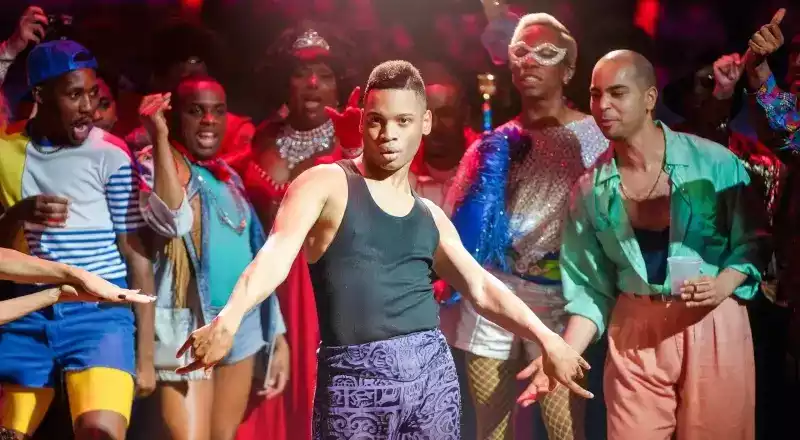 Character Analysis
(Avoiding Spoilers)
Grew Up... hiding his true self, in Allentown, Pennsylvania. Damon's father disapproved of his son's desire to be a dancer. When Damon came out as gay, his father beat him and kicked him out of the house at just 17.
Living... in late 1980s New York City. After sleeping in Washington Square Park for his first few weeks in the city, Damon meets caring Blanca Rodriguez-Evangelista, who invites him to join her newly formed House of Evangelista. Houses are both communities and competitive teams within the ballroom scene—a vibrant underground space where people of the LGBT community walk, pose, vogue, and show off their fashion sense. Blanca gives Damon a place to live and shows him the sort of unconditional parental love he didn't get to experience growing up.
Profession... dance student and ball performer.
Interests... dancing, voguing, and Whitney Houston.
Relationship Status... dating Ricky. The flirtatious dancer is Damon's first real relationship, and the young lovebirds must navigate all kinds of ups and downs—including Damon's inexperience with romance and the importance of safe sex in the time of the AIDS crisis.
Challenge... making it as a dancer. One of Blanca's rules as house mother is that her children must fully dedicate themselves to their chosen crafts. Damon auditions for the New School for Dance, and his natural talent lands him one of the school's coveted spots. Now Damon just needs to follow through on the work required to make his dreams come true.
Personality... earnest, naïve, and spunky. Damon's bravery and fortitude will no doubt take him far in life, but as a young man in a brand new city he can sometimes be a bit naïve about the ways of the world. He doesn't always take his future as seriously as he should, and he can be easily distracted by a shiny new diversion. Though Damon generally wears his heart on his sleeve, his sweetness is also balanced by a feisty side that comes out in expert-level shade and sass.
Recommendations
Fans of him also like: