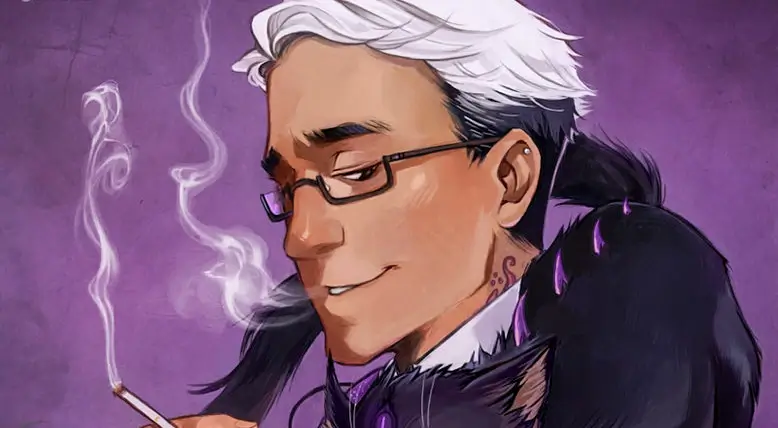 Character Analysis
(Avoiding Spoilers)
Grew Up… dreaming of being a radio journalist, despite the high mortality rate of interns at the Night Vale Community Radio Station. Though to be fair, most occupations in the isolated Southwestern desert town of Night Vale have a high mortality rate, so that's not necessarily a strike against journalism. Cecil had a mother and a brother – at least, that's what the records say, although he doesn't remember any brother. His mother, too, was difficult to connect to. She did give him some advice he remembers clearly: "Someday, someone will kill you, and it will involve a mirror." That always makes him smile.
Living…in a state of near-constant fear (as is perfectly normal), somewhere in Night Vale. Although, Cecil may as well be living in the radio station – he spends a lot of time there. Still, his boyfriend Carlos has been known to make him dinner in his apartment, so wherever it is, it can't be that bad. Comparatively.
Profession…radio host for the community of Night Vale. It's Cecil's job to let the populace know about important events, such as the menacing glow cloud hovering in the sky above town; or about exceptional dangers, like when the librarians escaped from the library. He also dispenses advice, and points out the more egregious offenses of the local government – not, of course, that Cecil would ever disrespect the sheriff's secret police.
Interests…radio, pop culture, and taking care of Khoshekh, the floating cat who lives in the radio station's men's bathroom. Oh, and contemplating the nature of our petty existence in an uncaring universe.
Relationship Status…dating Carlos the Scientist, an out-of towner who has come to investigate the strange phenomena around Night Vale. Cecil was drawn to him from the moment Carlos arrived, explaining on air, "Carlos told us that we are, by far, the most scientifically interesting community in the U.S. And he had come to study just what was going on around here! He grinned, and everything about him was perfect. And I fell in love instantly." Cecil is often concerned about the dangers Carlos faces in his intrepid search for scientific truth.
Challenge…staying alive. It's not as easy as it sounds.
Personality…usually warm, eloquent, and full of hometown pride. Occasionally, though, he grows deadly serious. And as is the case for many people in Night Vale, Cecil isn't always sure why he's saying what he's saying, or what he just said, or... well, he's not really sure of anything.
Recommendations
Fans of him also like: