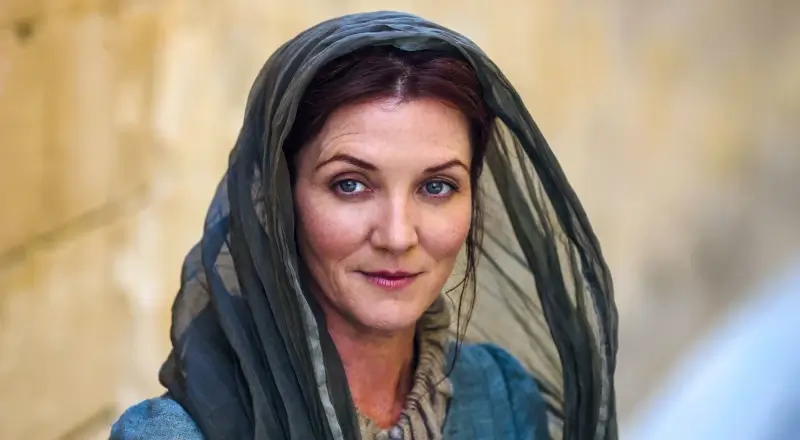 Photo Credit: Everett Collection
Character Analysis
(Avoiding Spoilers)
Living... as wife to the Hand of the King, Eddard (Ned) Stark. Until recently she and her husband lived together in the Northern keep of Winterfell, where the Starks have ruled for centuries. However, her husband was recently called away to serve as King Robert's central advisor, leaving Catelyn at home to care for their comatose son, Bran. A compulsive climber, Bran recently plummeted from one of Winterfall's towers – but he doesn't remember what happened. Did he simply fall as it first appears, or was he pushed?
Profession... devoted mother to her five children and wife to Lord Stark. While her existence might sound sleepily domestic it would be a grave mistake to underestimate Catelyn Stark, who has spent her life among nobles and has a keen understanding of the politics that drive the Seven Kingdoms.
Interests… caring for her children and raising them to be proud, successful members of society. While most nobles in Westeros are constantly jockeying to improve their position, Catelyn is content where she is. When Ned is unsure if he wants to take the job as Hand of the King, she reminds him he can say no. She'd rather he be happy than powerful.
Relationship Status... in a loving marriage to Ned Stark. Their marriage was arranged, but the two have grown to love each other deeply throughout their married life. The only wrinkle in their relationship is Ned's bastard child, Jon Snow, a boy born from an unknown mother while Ned was on the campaign to overthrow the Mad King, the previous monarch. Whoever the boy's mother was, Ned bought him back to Winterfell and raised him as his own – a constant reminder of Ned's infidelity and a constant source of frustration for Catelyn.
Challenge... protecting her family. It has been 16 years since the Seven Kingdoms were torn apart in Robert's Rebellion. It has been a time of peace and prosperity – but things are starting to change. Plots and conspiracies grow in every shadow, and a struggle is developing for the Iron Throne. As her family is pulled deeper into the royal intrigue, Catelyn will have her hands full to protect her husband and children. Catelyn has already received a harsh lesson to this effect, and is beginning to suspect that Bran's fall might be less accidental than she was led to believe…     
Personality... caring, brave, and fiercely devoted to her family. When she learns Bran's fall may have been an attempted murder, she becomes obsessed with finding out the truth. Intelligent and charismatic, Catelyn has been trained to lead and inspire since birth, gifts she will have to utilize to the fullest if the Starks are to have any hope of surviving the dark days ahead.
Recommendations
Fans of her also like: