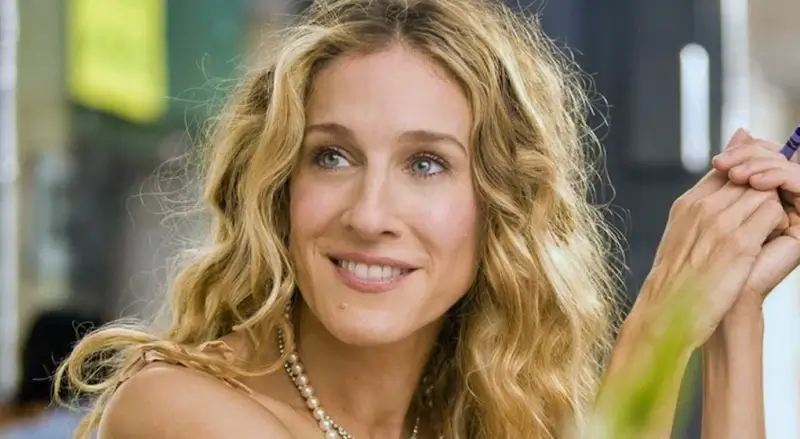 Photo Credit: Everett Collection
Character Analysis
(Avoiding Spoilers)
Grew up… officially, in 11th grade, on the ping-pong table in Seth Bateman's recreation room. Since then, Carrie has never been able to imagine a life without boys, parties, gossip, and sex.
Living... in the the greatest city in the world according to her: Manhattan. She lives on the Upper East side in a great brownstone apartment that has a closet filled with her prized collection of Manolo Blahnik high-heeled shoes that cost $500+ a pop. Unfortunately, after her rent and her shopping habits, she doesn't have much left in her bank account. She jokes that someday she will literally be the woman who lives in her shoes.
Profession... columnist for The New York Star. Carrie writes "Sex and the City" every week, chronicling her life as a single socialite in Manhattan. She often uses her life experience as a jumping-off point for philosophizing on love, dating, and sex. There is nothing that is off-limits.
Interests... drinking cosmopolitans, smoking Marlboro Lights, and partying at the hottest clubs. Although Carrie loves the nightlife of Manhattan, she seems even happier with her closest friends at a local coffee shop they often frequent. Given their active social lives and personal dramas, they have a lot to dish about.
Relationship Status... single. Carrie's career essentially revolves around her personal life. Being single is her career, in a way. Fortunately, her dating life gives her a lot of great material for her column. She's dated a man who wanted to urinate on her, a guy who stole cheap books for no reason, and a man with no soul. But of all the men she has dated, she often finds herself thinking about a guy that she calls Mr. Big. Although the two have undeniable chemistry, their romance has been quite an off-and-on-again rollercoaster.
Challenge... finding "real love. Ridiculous, inconvenient, consuming, can't-live-without-each-other love." Carrie is the ultimate romantic and won't settle for anything less. She doesn't feel any pressure from her biological clock ticking (she doesn't appear to want kids), so she will take the time she needs to find out who is right for her. And she doesn't need a man to complete her family. For Carrie, her friends are her family.
Personality... a bit irresposible (especially with money) and klutsy (her 4-inch heels make her trip often) but also funny, sexy, insightful, accepting, and positive. Carrie's optimism is what makes her such a good friend and so attractive to the men of Manhattan. She is never judgmental and always seems to find a way of laughing through life's adventures.
Recommendations
Fans of her also like: