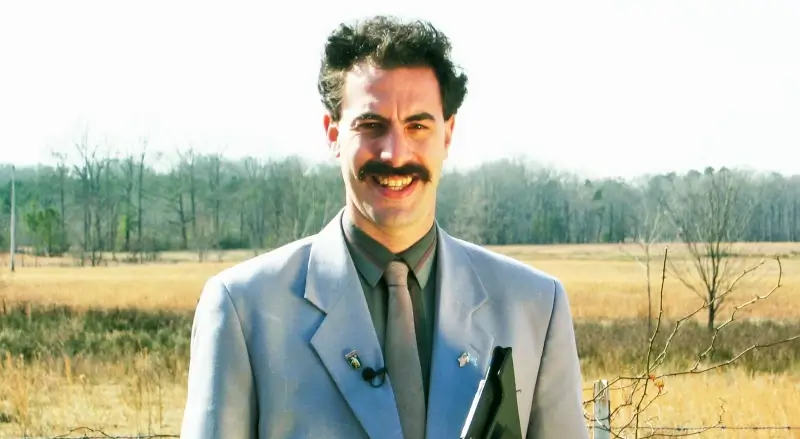 Photo Credit: Everett Collection
Character Analysis
(Avoiding Spoilers)
Grew up… in the village of Kuzek, in what was then the Kazakh Soviet Socialist Republic. 
Profession… journalist for Kazakh television. After attending the elite Astana University, where he studied English, journalism and plague research, Borat moved on to become a Kazakh celebrity. Borat is so famous he has been sent to America to make a documentary for the Kazakh Ministry of Information.
Relationship Status… married. Borat has had several wives, as is typical of a man in his station in Kazakh society. But Kazakh women tend to wear out rather quickly. He says, "When I, uh, buy my wife, at the start she was uh, cook good, her vazhïn work well, and she strong on plow. But after three years, when she was fifteen, then she become weak, her voice become deep…eh, she receive hair on chest, and vazhïn hang like sleeve of wizard."
Challenge… finding Pamela Anderson in California, marrying her, and bringing her back to Kazakhstan. He can't let Pamela Anderson distract him from his movie, though – if it isn't successful he'll be "execute."
Personality… vulgar, anti-Semitic, and stupid. Borat offends people as reliably as a Holocaust joke. Perhaps it's just cultural difference, but Borat can't stop putting his foot in his mouth during his visit to America. His inflammatory remarks and erratic behavior haven't earned him many friends, but his obvious ignorance protects him from most reprisals.
Recommendations
Fans of him also like: