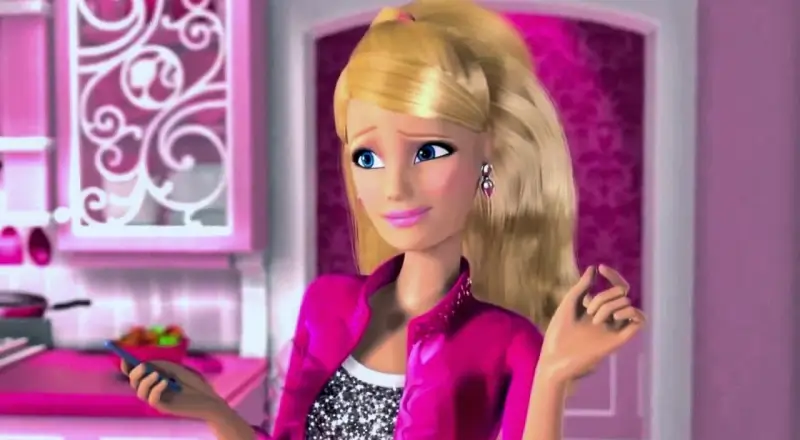 Barbie: Life in the Dreamhouse
Photo Credit: Everett Collection
Character Analysis
(Avoiding Spoilers)
Grew Up… with practically everything. A closet that takes several days to walk through, luxury cars, a house that has not one but 36 bathtubs – if you can name it, Barbie probably has it.
Living... in sunny Malibu, California. Along with her sisters and their multiple pets, Barbie lives in the Dreamhouse, a three-story, state-of-the-art mansion painted a dreamy pink.
Profession… which one? Dentist, dog-walker, doctor, ballet dancer... if you can think of a job, Barbie's probably had it. When her friend Nikki learns she's even been to the moon, Barbie's response is, "you haven't?"
Interests… fun, friends, and (of course) fashion! Whether she's going to the beach or helping one of her younger sisters with homework, Barbie is always sure to look fantastic.
Relationship Status… happily in love with Ken. Over 40 years after their first meeting, Barbie and Ken's love hasn't faded one bit. It's easy to see why. The constantly supportive and affectionate Ken is, in Barbie's words, "the best, most thoughtful boyfriend a girl could ask for!"
Challenge… managing her busy, busy life! Between fashion shows, planning parties, and her many jobs, Barbie often finds herself squeezed for time to spend with her friends and family. After all, it isn't easy being fabulous.
Personality… optimistic, kind, and friendly. For all her beauty and talent, Barbie is shockingly down-to-earth. She considers everyone her friend, and if there's one thing Barbie is about, it's making sure her friends are happy.
Recommendations
Fans of her also like:
Find out how you match to her and 5500+ other characters
Get to Know her in...
Along with her sisters and their multiple pets, Barbie lives in the Dreamhouse, a three-story, state-of-the-art mansion in Malibu, California, painted a cheery pink. She has a closet that takes several days to walk through, luxury cars, a house that has not one but 36 bathtubs—if you can name it, Barbie probably has it. Of course, she also has a dreamy boyfriend named Ken.

Barbie Groom & Glam Pups is an all-new, fun and engaging game that lets players choose a pup from one of six adorable breeds, then groom it, train it, and dress it up. Finally, players show off their glam pup in a fabulous dance sequence, runway show and photo shoot.

Barbie and her sisters set off on a Swiss adventure to the majestic Alps, where they're excited to spend the summer at a fun-filled riding academy! Barbie can't wait to find a new horse to bring back to Malibu. Stacie is super excited to prove she's an amazing equestrian. All Chelsea wants to do is ride the big horses, and Skipper...well let's just say she's more interested in writing about the great outdoors than experiencing it. The sisters' vacation gets off to a rocky start, but when Barbie discovers a mysterious wild horse in the woods, their visit becomes truly magical.

Liana and Alexa (Barbie and Teresa) are best friends who share everything, including their love of singing. One day while walking through the forest home from the village, the girls meet an old beggar who gives them a magical mirror. As they clean the mirror and sing, a musical apprentice muse named Melody appears in the mirror's surface, and tells the girls about the secret of the Diamond Castle.

Join Barbie as Corinne, a young country girl headed to Paris to pursue her big dream: to become a female musketeer. Never could she imagine she would meet three other girls who secretly share the same dream! Using their special talents, the girls work together as a team to foil a plot and save the prince. It's all for one and one for all!

Barbie stars as Merliah, a surfer who learns a shocking secret: she's a mermaid! She and her dolphin friend set out for an undersea adventure to rescue her mother, the queen of Oceana.

Surf's up for Barbie as she returns as Merliah, the fun and fashionable surfing champion who's also a magical mermaid princess! In this exciting sea-quel, Merliah makes a splash when she heads to Australia for the ultimate surfing competition. When the evil mermaid Eris escapes from her whirlpool with plans to take over the throne of Oceana, Merliah and her sea friends dive in to stop her. It's a fresh new adventure where Merliah learns that anything is possible and she really can have the best of both worlds!

Barbie is Kara - a modern-day princess with a normal life. Kissed by a butterfly which gives her superpowers and allows her to become a Super Sparkle, she is ready to save the kingdom from evil - were it not for her jealous cousin who is also kissed by the butterfly and becomes her rival and nemesis. Watch as Super Sparkle and Dark Sparkle learn that together they can become a great team for good once they learn the power of friendship.

When royal Princess Courtney trades places with famous rock star Erika, two worlds collide while both learn to appreciate new friends and experiences.

Get ready to power up! When Barbie magically gets pulled into her favorite video game, she is excited to see she's transformed into a fun roller-skating character. In the game, she meets Cutie, the lovable cloud-shaped friend, and Bella, the roller-skating princess. Together, they soon discover a mischievous emoji is trying to take control of the game. As they travel from level to level, Barbie must rely on her amazing gaming skills and out-of-the box thinking to save her team and beat the game!

Get ready for Barbie: A Fairy Secret, an amazing adventure with Barbie where she discovers there are fairies living secretly all around us! When Ken is suddenly whisked away by a group of fairies, Barbie's two fashion stylist friends reveal they are actually fairies and that Ken has been taken to a magical secret fairy world not far away! Barbie and her rival Raquelle take off with the fairy friends on an action-packed journey to bring him back. Along the way they must stick together and learn that the real magic lies not just in the fairy world itself, but in the power of friendship.

Join Barbie in a colourful, modern-day fairytale filled with fashion, friends and fun! Barbie and her dog Sequin jet off to visit her Aunt's amazing fashion house in Paris, and much to her surprise it's about to be shut down forever. After she discovers three enchanting Flairies with sparkle-magic powers, Barbie comes up with a brilliant idea to save the business. She even inspires Alice, a shy fashion designer, and together they create a dazzling runway fashion show. Barbie shows that magic happens when you believe in yourself.

Barbie and her sisters take off on another exciting, global adventure to visit their friend Ken at his summer internship at a beautiful and exotic coral reef.

Barbie stars as Blair Willows, a kind-hearted girl who is chosen to attend Princess Charm School: a magical, modern place that teaches dancing, how to have tea parties, and proper princess manners. Blair loves her classes—as well as the helpful magical sprites and her new friends, Princesses Hadley and Isla. But when royal teacher Dame Devin discovers that Blair looks a lot like the kingdom's missing princess, she turns Blair's world upside down to stop her from claiming the throne. Now Blair, Hadley and Delancy must find an enchanted crown to prove Blair's true identity in this charming and magical princess story.

Barbie and her best friends Teresa and Renee transform from hard-working gymnasts to undercover secret agents. When their amazing gymnastics skills catch the eye of a top-secret spy agency, the girls are soon following clues to a gem-stealing cat burglar, using high-tech gadgets, glam disguises and cute robo-pets to save the day.

Barbie is a cosmic princess who flies high on her hoverboard through a far-off universe with her adorable and devoted pet sidekick, Pupcorn. One day, everything changes when the twinkling stars start to dim and slow their dance in the sky. Barbie travels to a beautiful new planet to join a special rescue team on a mission to save the stars. Once there, she teams up with a group of talented new friends who work together to save the galaxy through exciting hoverboarding adventures. Barbie soon discovers that if she listens to her heart, and with the help of her friends, she might be the leader the whole universe has been waiting for!

Tori is a blonde princess who is bored of living her royal life, and has dreams of becoming a popstar. Keira, on the other hand, is a brunette popstar who dreams of being a princess. When the two meet, they magically trade places, but after realising it is best to be themselves.