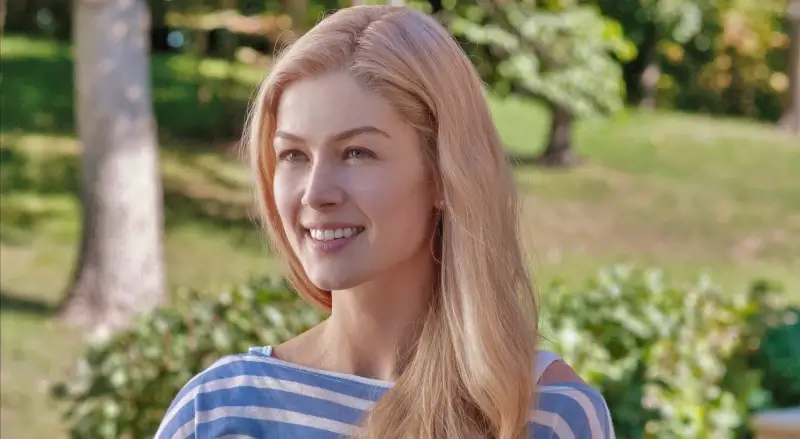 Photo Credit: Everett Collection
Character Analysis
(Avoiding Spoilers)
Grew Up... as "Amazing Amy," the inspiration for a series of children's books written by her parents. Amy spent her whole life living under the shadow of her perfect, fictionalized alter ego.

Living... in small town Missouri. Or at least she was before she disappeared from her home one afternoon, leaving behind only a journal that recounts the earlier, happier years of her marriage.

Profession... former magazine quiz writer. After Amy loses her job in the recession, she and her husband move from New York City to Missouri and she becomes an unhappy stay-at-home housewife. She explains, "Want to test your marriage for weak spots? Add one recession, subtract two jobs. It's surprisingly effective."

Interests... puzzles, luxuries, and New York City. Amy is immensely unhappy when the couple move away from their glamorous New York life to take care of her ill mother-in-law. She compensates by throwing herself into her favorite pastime: creating elaborate puzzles for her husband to solve.

Relationship Status... married to Nick Dunne. The only tricky thing is Amy and Nick describe their relationship in very different terms. While he tells the police that Amy was often anti-social, her diary depicts Nick as the aggressive, unhappy partner. She writes, "I will practice believing my husband loves me, but I could be wrong."

Challenge... getting found. No one knows what happened to Amy after she disappeared from her home. Police suspect Nick may be involved and they comb through her diary for clues. Within those pages, Amy reveals that her biggest challenge was surviving her husband's angry outbursts.

Personality... poised, intelligent, controlling, and charming. Like the games she likes to lay out for Nick, Amy is something of a puzzle. She depicts herself as sweet and innocent, but there may be more to Amy than meets the eye. Above all, she constantly strives for perfection in everything from her wardrobe to her marriage to her personality.
Recommendations
Fans of her also like: