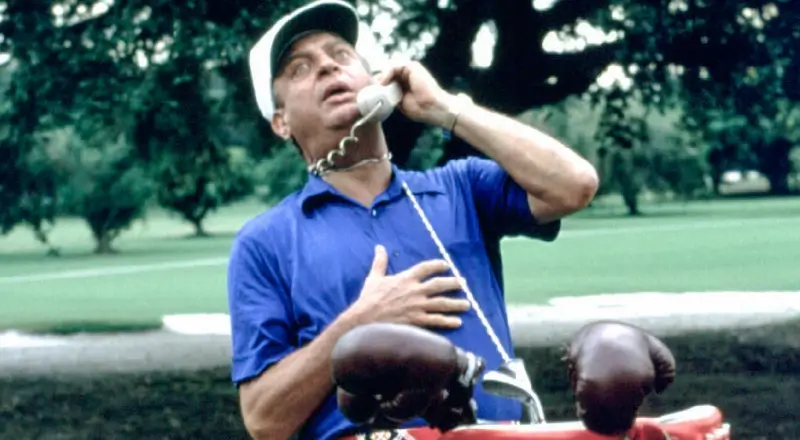 Photo Credit: Everett Collection
Character Analysis
(Avoiding Spoilers)
Living… life as one long party. Hedonism! To indulge every whim, to obey every impulse! With a successful career all but behind him, a big spender and even bigger tipper, Czervik is now content to play with his toys. He has his red Rolls Royce Silver Cloud III drophead coupe, his yacht (named "Seafood"), and a custom golf bag with built-in speakers and beer taps.
Profession… real estate developer of condominiums, shopping malls, and the like. Czervik believes that country clubs and cemeteries are nothing but a waste of good land. Czervik is wealthy – wealthy enough to employ Moose and Rocco, a pair of goons. But he didn't grow up wealthy. He worked hard to get where he is today, as he tells his caddy: "When I was your age I would haul 50 pounds of ice up five, six flights of stairs!"
Interests… sporting flamboyant suits; gambling, on just about anything; dancing, particularly when Journey or Earth, Wind and Fire comes on.
Relationship Status... seemingly single. Though he often goes around with a buxom young blonde at his side, Czervik is keen after Judge Smails' elderly wife. His wooing strategy seems to be verbal harassment: "Wanna earn 14 dollars the hard way?"
Challenge… getting the best of Judge Smails. Czervik fast develops a rivalry with Smails, who co-founded Bushwood Country Club. To Smails' chagrin, Czervik wants to buy Bushwood. A "snobbitorium," Al calls Bushwood. But he still wants to buy it. Throw it on the pile, with the rest of his properties.
Personality… fun-loving, loud, crude, entertaining. It's hard not to notice Czervik when he walks in the room – there he is, strutting about with his entourage in tow, talking up a storm, farting, sweating like an animal through his colorful suit. There is no filter between Czervik's mind and his mouth. He manages to insult everything that moves while maintaining a cheerful mien. He's getting on in age, but he'll always be a child at heart.
Recommendations
Fans of him also like: